TRAINING NEGOTIATION IMPROVE YOUR NEGOTIATING SKILLS AND MAKE YOU MORE EFFECTIVE NEGOTIATOR
Training Negosiasi Meningkatkan Keterampilan Negosiasi Anda Dan Buat Negosiator Yang Lebih Efektif
Training Ability To Perform The Negotiation Practical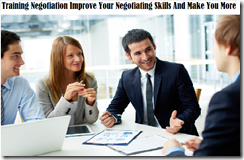 OVERVIEW NEGOTIATION SKILLS
Negotiation is an ever-present feature of our lives both at home and at work. A business negotiation may be a formal affair that takes place across the proverbial bargaining table, in which you haggle over price and performance or the complex terms of a partnership venture. Alternatively, it may be much less formal, such as a meeting between you and several fellow employees whose collaboration is needed to get a job done. If you are a supervisor, manager, or executive, you probably spend a good part of your day negotiating with people inside or outside your organization – often without even realizing it. Whether you're closing a sale or getting a subordinate to agree to certain performance goals, you are negotiating. Given the role of negotiation in our personal and professional lives, it's important to improve our negotiating skills. Even a modest improvement in those skills can yield a sizable payoff, such as a larger pay raise, a better deal on a home purchase or more effective working
arrangements in the office. This course can help the trainees improve their skills and make them a more effective negotiators.
OBJECTIVES  NEGOTIATION SKILLS
1. Give an understanding of the negotiation Key concepts followed by expert negotiators and creative problem solvers.
2. Provide an ability to perform the negotiation practical tips and examples that will help you in your personal life and in your and in your career.
3. Help to improve your negotiating skills and make you a more effective negotiator.
TRAINING MATERIAL OUTLINE NEGOTIATION SKILLS
Day 1 :
1. Introduction and course objectives
2. Types of Negotiation (Many Paths to a Deal)
1. Distributive Negotiation
2. Integrative Negotiation
3. Multiple Phase and Multiple Parties
3. Four Key Concepts of Negotiation (Your Starting Points)
1. Know Your BATNA (Best Alternative To A Negotiated Agreement)
2. Reservation Price
3. ZOPA (Zone Of Possible Agreement)
4. Value Creation through Trades
4. Preparation (Nine Steps to a Deal)
1. Consider What a God Outcome
2. Identify Potential Value Creation Opportunities
3. Identify Your BATNA and Reservation Price
4. Shore up Your BATNA
5. Anticipate the Authority Issue
6. Learn All You Can About the Other Side's People and Culture,
Their Goals, and How They've Framed the Issue
1. Gather External Standards and Criteria Relevant to fairness
2. Alter the Process in Your Favor
3. Negotiation Tactics (How to Play the Game Well)
1. Getting the Other Side to the Table
2. Making a Good Start
3. Win-Lose Negotiation
4. Integrative Negotiation
5. General Tactics Framing and Continual Evaluation
4. Frequently Asked Tactical Questions (Answer Your Need)
1. FAQs About Price
2. FAQs About Process
3. FAQs About People Problems
5. Games & Simulations
Day 2 :
1. Barriers To Agreement (How to Recognize and Overcome Them)
1. Die-Hard Bargainers
2. Lack of Trust
3. Informational Vacuums and the Negotiator's Dilemma
4. Structural Impediments
5. Spoilers
6. Differences in Gender and Culture
7. Difficulties in Communication
8. The Power of Dialogue
2. Mental Errors (How to Recognize and Avoid Them)
1. Escalation
2. Partisan Perceptions
3. Irrational Expectations
4. Overconfidence
5. Unchecked Emotions
3. When Relationships Matter (A Different Notion of Winning)
1. Why Relationships Matter
2. How Perceptions of Relationship Value Affect Negotiations
3. Doing It Right
4. Negotiating for Others (Whose Interests Come First)
1. Independent Agents
2. Non-Independent Agents
3. Agency Issues
5. Negotiation Skills (Building Organizational Competence)
1. Continues Improvement
2. Negotiating as an Organizational Capability
3. What Makes an Effective Negotiator ?
4. Games and Simulations
1. Closing of The Course
WHO SHOULD ATTEND THIS TRAINING?:
Course is aimed at all those concerned with the intention to improve their negotiating skills, make them a more effective negotiators, and winning negotiation :
1. Personnel
2. Professionals
3. Employees
4. Supervisors
5. Managers
Jadwal training negotiation improve your negotiating skills and make you more effective negotiator terbaru :
· 15 – 17 Januari 2019
· 19 – 21 Februari 2019
· 26 – 28 Maret 2019
· 23 – 25 April 2019
· 2 – 4 Mei 2019
· 25 – 27 Juni 2019
· 16 – 18 Juli 2019
· 27 – 29 Agustus 2019
· 10 – 12 September 2019
· 15 – 17 Oktober 2019
· 19 – 21 November 2019
· 17 – 19 Desember 2019
Jadwal tersebut dapat disesuaikan dengan kebutuhan calon peserta training ability to perform the negotiation practical terbaru
Lokasi training negosiasi meningkatkan keterampilan negosiasi anda dan buat negosiator yang lebih efektif terbaru :
· Yogyakarta, Hotel Dafam Malioboro (6.000.000 IDR / participant)
· Jakarta, Hotel Amaris Tendean (6.500.000 IDR / participant)
· Bandung, Hotel Golden Flower (6.500.000 IDR / participant)
· Bali, Hotel Ibis Kuta (7.500.000 IDR / participant)
· Lombok, Hotel Jayakarta (7.500.000 IDR / participant)
Investasi Pelatihan :
Investasi pelatihan selama tiga hari tersebut menyesuaikan dengan jumlah peserta (on call). *Please feel free to contact us.
Apabila perusahaan membutuhkan paket in house training, anggaran investasi pelatihan dapat menyesuaikan dengan anggaran perusahaan.
Fasilitas training ability to perform the negotiation practical murah :
· FREE Airport pickup service (Gratis Antar jemput Hotel/Bandara)
· FREE Akomodasi Peserta ke tempat pelatihan bagi peserta training negosiasi meningkatkan keterampilan negosiasi anda dan buat negosiator yang lebih efektif terupdate
· Module / Handout training negotiation improve your negotiating skills and make you more effective negotiator terupdate
· FREE Flashdisk
· Sertifikat training consider what a god outcome murah
· FREE Bag or bagpackers (Tas Training)
· Training Kit (Dokumentasi photo, Blocknote, ATK, etc)
· 2xCoffe Break & 1 Lunch, Dinner
· FREE Souvenir Exclusive